Discover church. Experience God.
Explore is your opportunity to move forward in your journey with God – no matter where you stand right now. Experience fellowship and try out new things – because we do not just want to talk about God, we want to experience him! Explore is for everyone who likes to discover and try out new things. You are welcome to participate as an existing Small Group or you can use Explore to find a Small Group.
Together we will investigate God's role in our daily lives and how we can be empowered when we engage with him earnestly. Here we become practical: we do not only look at theoretical principles of the Christian faith but will see how to bring them to life. Since God cannot be compressed into one evening, we will take the next ten weeks to intensively seek him out. And because it is simply more fun to be together, we will go on this journey in our Small Groups. Together you can also look forward to a Team Challenge and a Love Changes activity that you will begin as a group. During the course of Explore, you will determine with your leader when and how to arrange the two dates.
Embark on an adventure with God and experience what Church is all about!
TOPICS:
Getting started!
Experience God as Mother and Father
Experience prayer in a different way
Rediscover the Bible
Rediscover Jesus for yourself
Experience freedom
Rediscover the Holy Spirit
Experience God as your provider
Be a bringer of blessings
Contribute your talents
October
09
Explore ENDiscover Church. Experience God.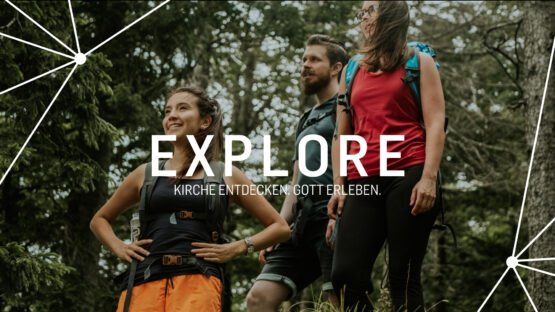 Curiosity. Depth. Just do it. That's Explore. We stop wondering "What if?" and just try it out. What if God is real? What if prayer actually works? If community can reach an unimagined depth?
Come with us on one of the greatest adventures of your life: explore God. In a practical way. Because God cannot be squeezed into an evening, we will take an intensive ten weeks and go in search of him in small groups.
Dare an adventure with God and experience what church and faith are all about!
Registration deadline: 01.10.2023
(if the maximum number of participants is reached before the registration deadline, we unfortunately have to close the registration earlier – in such a case you are very welcome to register for the following round)
STARTING SESSION: MONDAY, 09.10.2023, 19:00 - 21:30 | THEREAFTER 7X TUESDAYS & 2X MONDAYS | CLOSING SESSION: MONDAY, 18.12.2023, 19:00 - 21:30
LIVE ON SITE AT NEURAUM, ARNULFSTRASSE 17, 80335 MUNICH